Dignity
If Harry Potter taught us anything, it's that everyone should live with dignity. This coffee is grown by farmers in Mexico who are paid a fair wage and who work in safe conditions. The coffee is also organic, which means that it is grown without the use of harmful pesticides or herbicides.
When you drink this coffee, you can taste the dignity of the farmers who grew it. The coffee has a rich, full-bodied flavor that is perfect for any time of day. Whether you are enjoying a cup of coffee in the morning or an iced coffee in the afternoon, this coffee will help you to relax and enjoy the moment.
We hope that you will enjoy our Dignity coffee. And we hope that you will always remember that everyone deserves to live with dignity.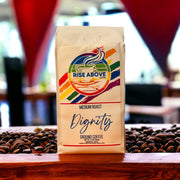 Order and get
90

reward points

Earn points by signing up for our rewards program